Agile Project Management & Time Tracking
Simplify assignments with Kanbans and Gantt Charts. Forecast utilization of resources and subcontractors. Analyze projects for performance and profitability.

Juggling internal and external resources has never been so taxing on a Project Manager. From aligning skill-sets and locations with specific resources, to making adjustments and visualizing the impact on resource changes, PMs need a tool that's flexible, fast, and capable of change and customization.
Powered by Odoo Project Management and Microsoft Dynamics Project Service, we offer a simple, yet full-featured project and time tracking system that not only assists you in finding the right resource at the right time, but also helps you plan better for the future, ensuring your team deliver both on-time and on-budget, with the highest rate of quality.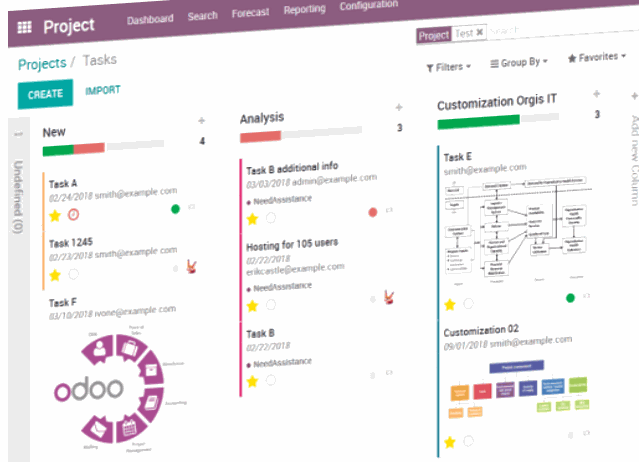 Visual Task Management To Quickly Adjust To Change
Your Excel spreadsheets may have gotten you this far, but as your project needs grow, so does your need for better tracking tools that align with your project methodology and flow.
Take your Project Management to the next level - with Traction ERP. Our built-in Kanban / Agile and Gantt Chart visual tools provide you with the flexibility of working your way - either through cutting-edge methods like buckets, burn-downs, and backlogs; or via tried-and-true toolsets you're already familiar with like gantt charts, work breakdown structures, and more.
Simply increase gantt tasks to adjust for revised task deadlines, start times, and dependencies. Drag-and-drop cards from one bucket to another as projects and tasks move through your process. Use single-click updates to flag for issues, or increase allotted time.
Plan For The Future And Maximize Resource Utilization
Adding resources to tasks is the easy part - keeping them fully utilized while enduring projects finish on-time is the real challenge. With Traction ERP, we help take the guessing game out of project management.
More than just an integrated resource allocation tool, our Resource Allocation Cockpit allows you to visualize both current and future project and resources. Leveraging the simplicity of Red / Yellow / Green status indicators and percentage-utilized visuals, our project management solution provides you with quick and simple feedback as you assign and re-assign your projects, to keep up with the demands and pivots of your growing company and teams.
And, by leveraging Work Schedule, Time Off, and Holiday Schedule modules within the system, your forecasts can be more accurate than ever - automatically adjust visuals and showing you hot-spots and issues as employees request time off.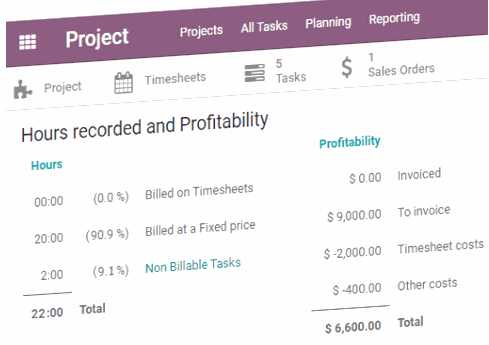 Gain Rich Insights Into Performance And Profitability
Time tracking for projects and resources is a gap in most company's project management toolbox. Either time keeping succumbs to manual processed often requiring multiple reporting mechanisms based on job role, or time is simply negated in lieu of simple percentage completed reporting metrics and other non-time guesstimates.
With Traction ERP, our integrated Time Tracking system empowers resources to quickly and efficiently track time while on-the-go, using nothing more than a tablet or mobile phones. With Resource Expense, Departmental Expense, and Job Expense logging capabilities built right in, our project management solution can provide you and your team with true project-by-project performance and profitability metrics, to ensure you realize your projects on time, on budget, and in a profitable manner for your company.
We've been supporting sales, marketing, operations, and financial teams for over 20 years. We know a thing or two about ERP -
Let us show you "the better way" - with Traction ERP.