Microsoft Outlook Add-in for Odoo ERP
Push emails into Odoo directly from your Outlook Desktop Client
If you live most of your day in Outlook, then you need our Outlook Add-In for Odoo ERP. Living as a "side bar" within your Outlook client, our add-in lets you interface with the most-needed functions of Odoo.
Quickly copy-and-paste information from an email into your sidebar to create new Leads, Contacts, and Opportunities. Search for Quotes, Sales Orders and Invoices using our cross-entity searching. Save and attach emails, images, and attachments directly to any record - without using Odoo. View open activities and recent history - its all possible!
Download our free 30-day trial using the installation button below -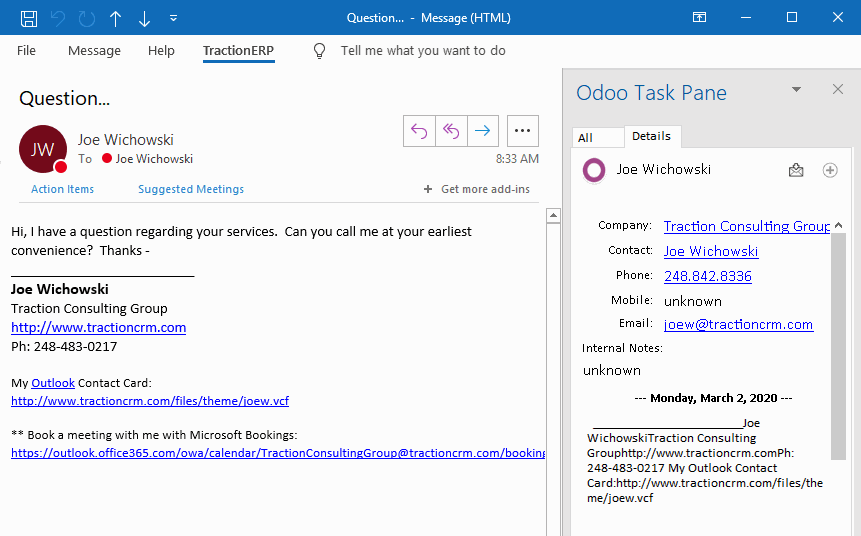 Download and Run Setup.exe
to DOWNLOAD 30-DAY TRIAL (Note: If you've already purchased a license, your email is on file, and your trial will automatically be converted to a paid subscription).
Once you run the SETUP.EXE application, you will see the screen to the right (if using Windows 10). This screen shows for all applications you download from the internet.
Click on MORE INFO and you will see that the application is signed as Publisher by us (Traction Consulting Group).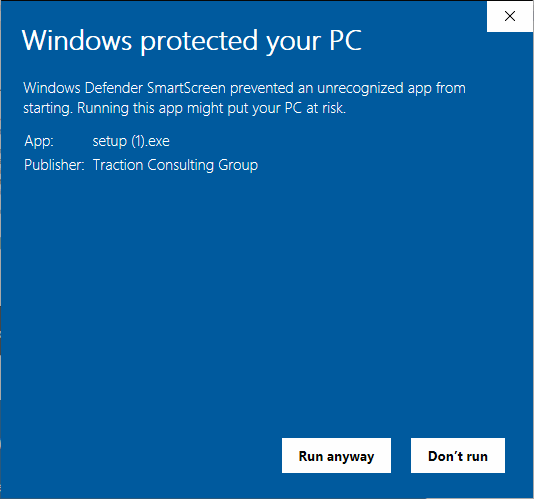 Click "Run Anyway" to setup the add-in
The Add-In is a Microsoft Outlook VSTO Add-In. When clicking on the "Run Anyway" button, you start the installer as shown below. There you can review our publisher certificate, as well as click INSTALL to install the add-in.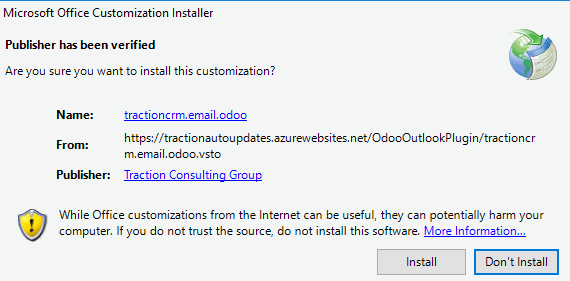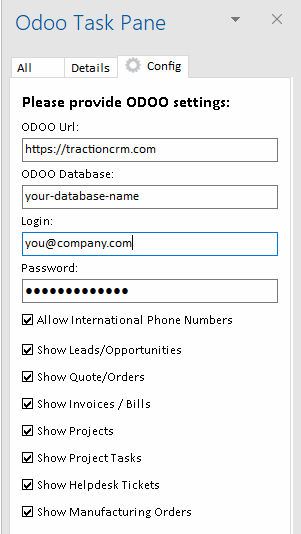 Once Installed, Launch Outlook...
When you first launch Outlook after you've installed the add-in, you should see the ODOO TASK PANE on the right-side of your screen, and the CONFIG panel should be shown. There, in the config panel, you need to configure:
ODOO URL - This is the URL to your Odoo ERP



ODOO DATABASE - You will need Admin/Developer access to your Odoo instance in order to identify your database string. Contact your Odoo administrator and they can provide it to you if you don't know how to retrieve this yourself.



LOGIN - This is your standard Odoo login ID



PASSWORD - This is your standard Odoo password
NOTE: We DO NOT store your password on any of our server. The PASSWORD setting is encrypted and stored locally on your PC This means you will need to re-configure this configuration for every unique PC you use. This also means that Traction Consulting Group DOES NOT have access to your ERP system.
Once the 4 items above have been set, determine if you need Leads/Opportunities, Quotes/Orders, and or Invoices by indicating with a checkbox.
Finally, click the SAVE button to save your configuration. If your configuration settings check out OK, the CONFIG tab will be hidden, and you can now use the Outlook Add-In with your Odoo installation.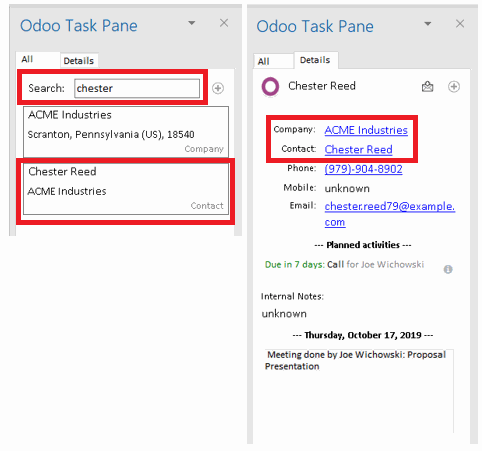 Using the Outlook Add-In...
Generally speaking, any email (or meeting) you navigate to will automatically populate the SEARCH box with the main sender's email address. This will help "automatically" search for related contacts to a particular email or appointment.
If however, you wish to search for a different contact, you can simply type a contact (or company) directly into the SEARCH box, and press "enter". The system will search your Odoo contact manager for Contacts and/or Company records that match that search.

Once a CARD is shown, you can click on the CARD, and you will be taken to the DETAILS tab. There you will see information regarding that specific record, including Company Name, Contact, Phone, etc.
Note that any piece of information UNDERLINED IN BLUE is a hyper-link. It will either take you to the record in question (if it is a Company name, or a Contact name), OR it might perform special actions (like attempting to dial the phone number, or firing off a new email in the case of the Email address).
In addition to standard data-fields, you can also see the record's most-recent Activity in the DETAILS tab.
For Sales or White-Label options,
to send an email to the Sales team.
For Technical and Setup Support,
to send an email to the technical support team.